Spicy flowers and golden spices.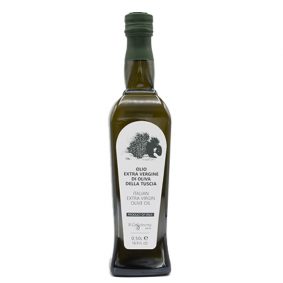 OLIVE OIL
The production is located in the region Etruria, near the archaeological site of Vulci and in a protected Bio-district between Le Forre and the ancient Via Amerina, pilgrimage destination from all over the world.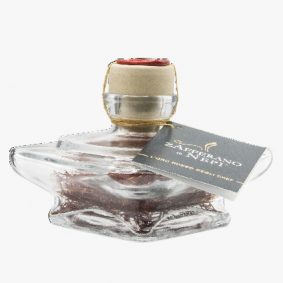 ORGANIC SAFFRON
The chef's selection Zafferano di Nepi is packed in elegant crafted container and the sizes may be personalized. All are carefully sealed with food wax and accompanied by a certificate that guarantees its quality.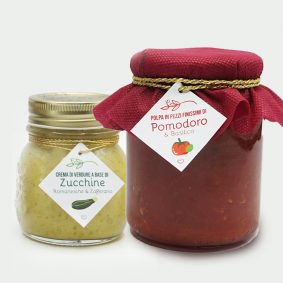 PRESERVES
The artisanal preserves are small jewels that delight the palate thanks to the processing methods that exclude the use of preservatives. It is possible to savor them in absence of the fresh product and to enjoy their taste and their characteristic nutritional properties, at the same time. 
The warm colors of the red plums and the black mulberries, the scent of the vegetable garden among the romanesque courgettes, the yellow Patissons and the bright red of the tomatoes. All that preserved and ready to be enjoyed at any time.
ORGANIC HONEY
The wildflower honey is full of flavour and originality like its territory that comes from, with many aromas and its unique notes that may express different characteristics depending on seasonal trends and flower blooms. Pure saffron threads are infused together with the honey producing a sensational and mouth watering taste definitely perfect for exalting any dish. 
HERBS AND SPICES
Organic selection of aromatic herbs, powder, grains, leafy spices typical of the Mediterranean cuisine. Marjoram, mint, oregano, tarragon, sage, fennel, thyme, coriander, saffron for pizza, salads, risottos and other imaginative and delicious recipe.
CRAFT BEER
Original Italian Craft Beers suitable to accompany every pleasant moment of life. They are all made using the finest selection of hops, exclusive saffron spice, and other traditional ingredients. Most are sourced locally respecting the Kilometre zero philosophy
so helping the local production.